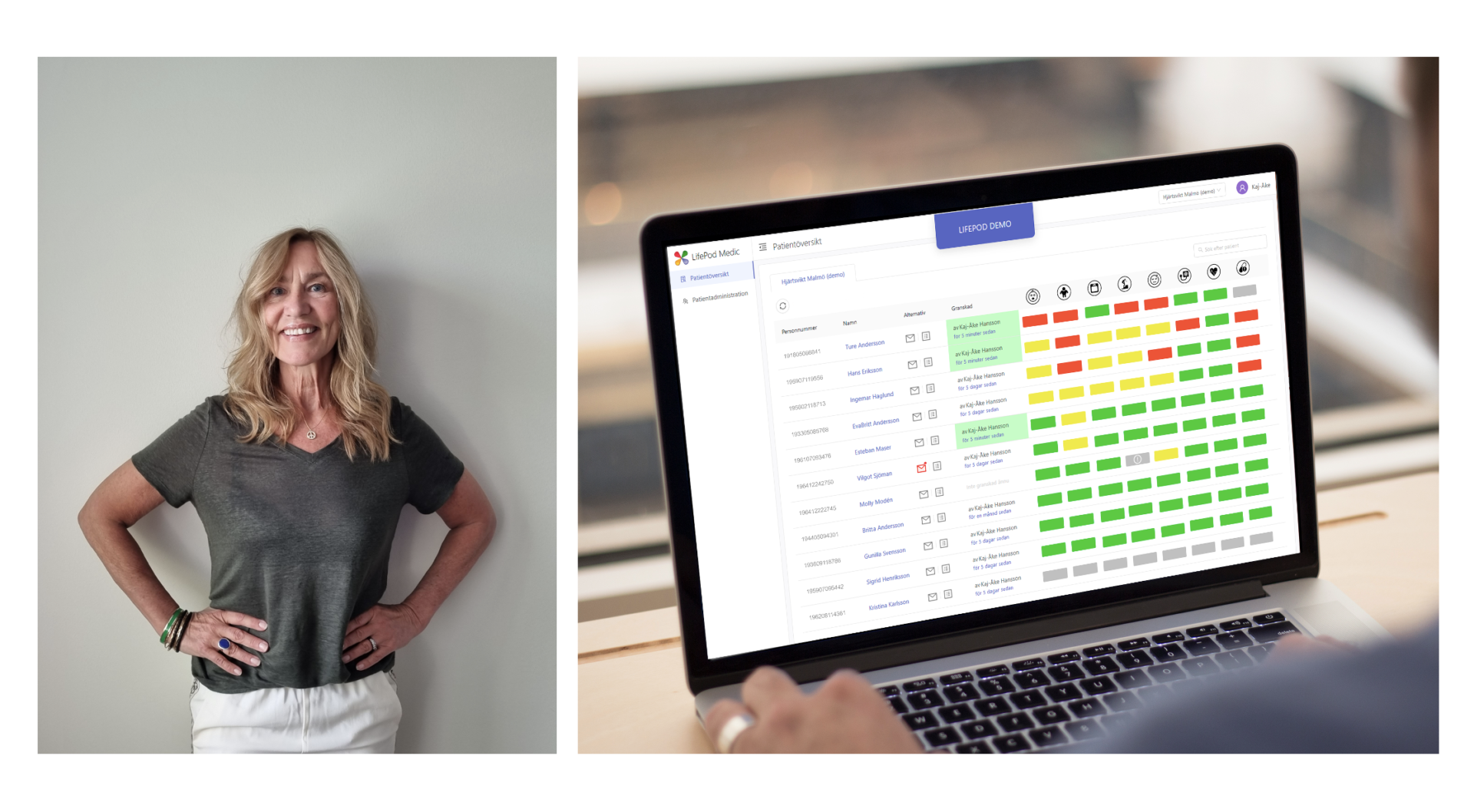 eHealth award winning platform increases security for patients and healthcare provider efficiency
Posted on juni 13, 2022
Cross Technology Solutions, a Swedish medtech company, provides both healthcare and patients with the eHealth platform LifePod, for remote monitoring of patients with chronic conditions or needs for temporary follow-up monitoring, e.g. post surgery. LifePod identifies and automatically grades patients' medical priority using smart algorithms. This results in increased security for patients, improved communication and significant saving opportunities, with a 98% reduction in emergency room visit and a 99% reduction in admissions in inpatient care.
All over the world, healthcare providers struggle to effectively use their limited resources. Simultaneously, a growing number of patients want better and more personalized care. By offering caregivers a possibility to proactively focus on the patients with the greatest needs, LifePod enables caregivers to free up time to take care of 20-40% more patients.
LifePod is developed in close collaboration with healthcare professionals. The platform is used in primary care centers and specialist clinics to monitor patients with congestive heart failure, chronic obstructive pulmonary disease (COPD) and a vaste number of other conditions. The parameters for the medical conditions are assembled in a platform-independent web application which has built-in functionality for reminders, rewards and features to motivate and encourage the patient, which leads to better risk factor management and compliance to medical treatment.
Each patient inputs data in the web application that can be complemented by data from connected sensors (e.g . weight scales, blood pressure, pulse rate). The web application communicates to the LifePod platform, delivering both priority (medical-grade) and relevant (patient-grade) data that provides a holistic view of the patient's health state. The resulting feedback is an individual healthcare plan tailored to the user.
On the other side, the doctor's dashboard monitors in real time, large groups of patients and through a unique and automatic prioritization function, identifies the patients with greatest needs, showing which patients need a medical treatment, who needs closer monitoring and which patients are doing well.
– LifePod is a decision support system that saves lives and time, with disruptive technology, we help patients and enable healthcare to provide the right care, at the right time, to the right patient, says Titti Lundgren, CEO at Cross Technology Solutions.
– LifePod generates data over time and complemented by other data types, this big data can serve as input to an artificial intelligence (AI) system. Through machine learning it is possible to establish cause and effect in different health conditions, moving towards prescriptive functionality. This enables huge savings in emergency care costs as well as improving the quality of life for patients, says Thomas Bergqwist, founder & CTO at Cross Technology Solutions. 
LifePod is an open API platform which easily connects to other external systems to deliver a complete and customized solution to support care outside the clinic. The ecosystem architectureis built for fast implementation of additional health conditions, new sensors and applications. It is platform-independent and runs on all devices and operating systems. LifePod is a CE-approved medical device class IIa, protected by several approved patents world wide.
Cross Technology Solutions at HIMSS
Cross Technology Solutions is a member of the HealthTech Nordic network and is selected to present at their pavilion 410 at the HIMSS conference in Helsinki 14-16 June. You can also meet them on June 16th at 10.30-11.30 am in conference room 206.