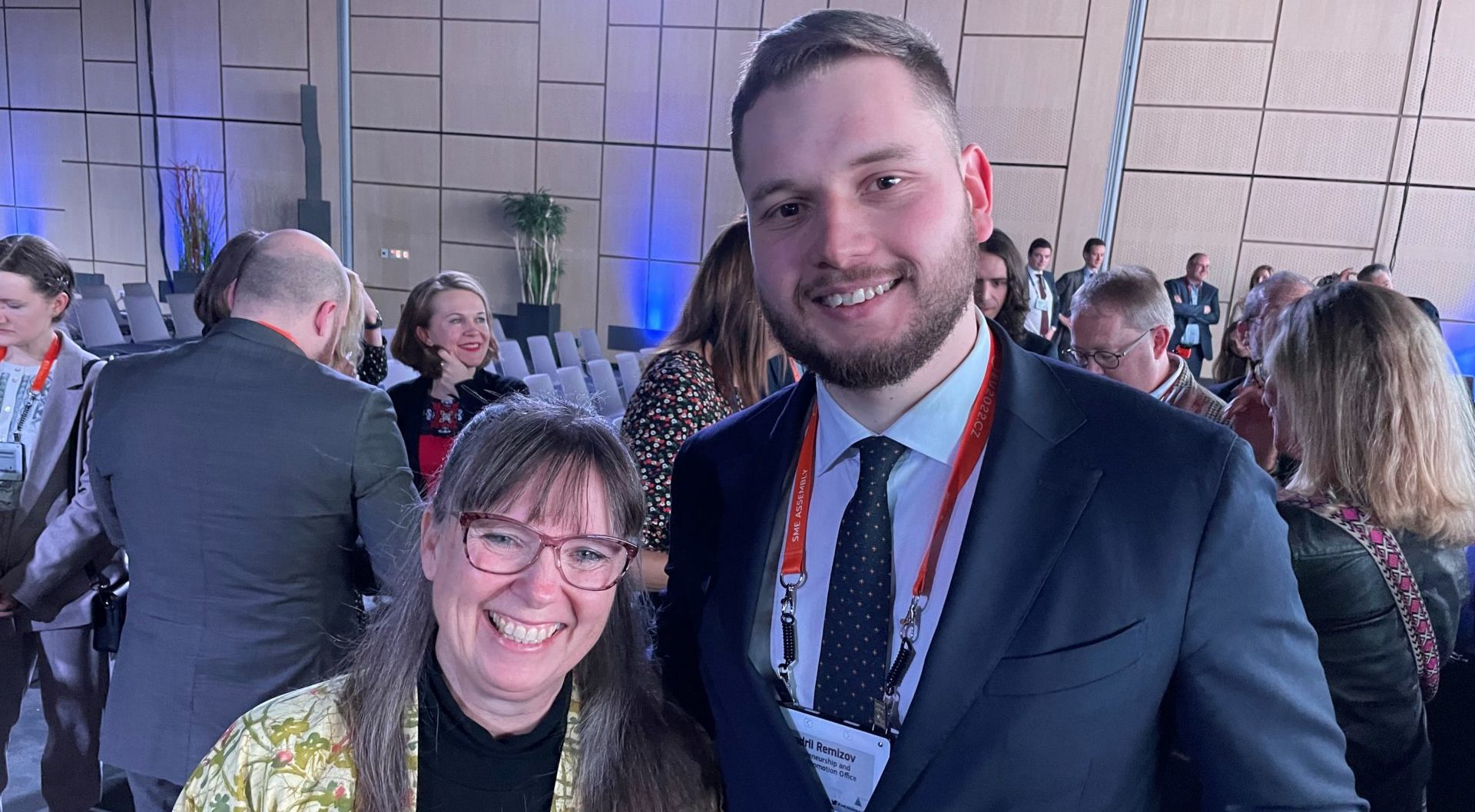 Margareta Wallenén, Project Manager for HealthTech Nordic, together with the EEPA winner, Andrii Remizov, Deputy Director for Entrepreneurship Development, Diia.Business.
HealthTech Nordic congratulates Diia.Business on winning the EEPA Award
Posted on november 30, 2022
The Ukrainian project Diia.Business won the European Enterprise Promotion Award (EEPA) 2022. Diia.Business is the first Ukrainian national project for entrepreneurship and export development. HealtTech Nordic came in joint second place and is ranked as one of the top EU-funded projects of 2022.
Since 2006 the European Enterprise Promotion Awards has rewarded those who promote entrepreneurship and small business at the national, regional and local level. Projects from across Europe compete in six categories and HealthTech Nordic came joint second in category four: Supporting the Internationalisation of Business. Ahead of the award ceremony on 29 November 2022, 186 projects from 26 countries have been evaluated.
Diia.Business covers the entire business development cycle, from finding an idea to its internationalisation, including participation in international trade events. The project has two components: an online portal and an offline network of 12 support centres for entrepreneurs. The total coverage of the online component of the project is more than 3.2 million visits. The total coverage of the network of support centres for entrepreneurs is more than 40,000 visitors.
In July, the Swedish Agency for Economic and Regional Growth nominated HealthTech Nordic 2.0 for the European Enterprise Promotion Award for its job creation. In September, the European jury announced that the project had advanced to the finals.
– The whole HealthTech Nordic community congratulates Ukraine for the award. They are truly worthy winners. At the same time, we are incredibly proud to come in joint second place. We are among the top EU-funded projects of 2022. In HealthTech Nordic we do everything we can to support these entrepreneurs and accelerate their business internationalisation and expansion globally. Our members are growing, creating more jobs and expanding their businesses. Together we are changing the world, says Margareta Wallentén, Project Manager for HealthTech Nordic.