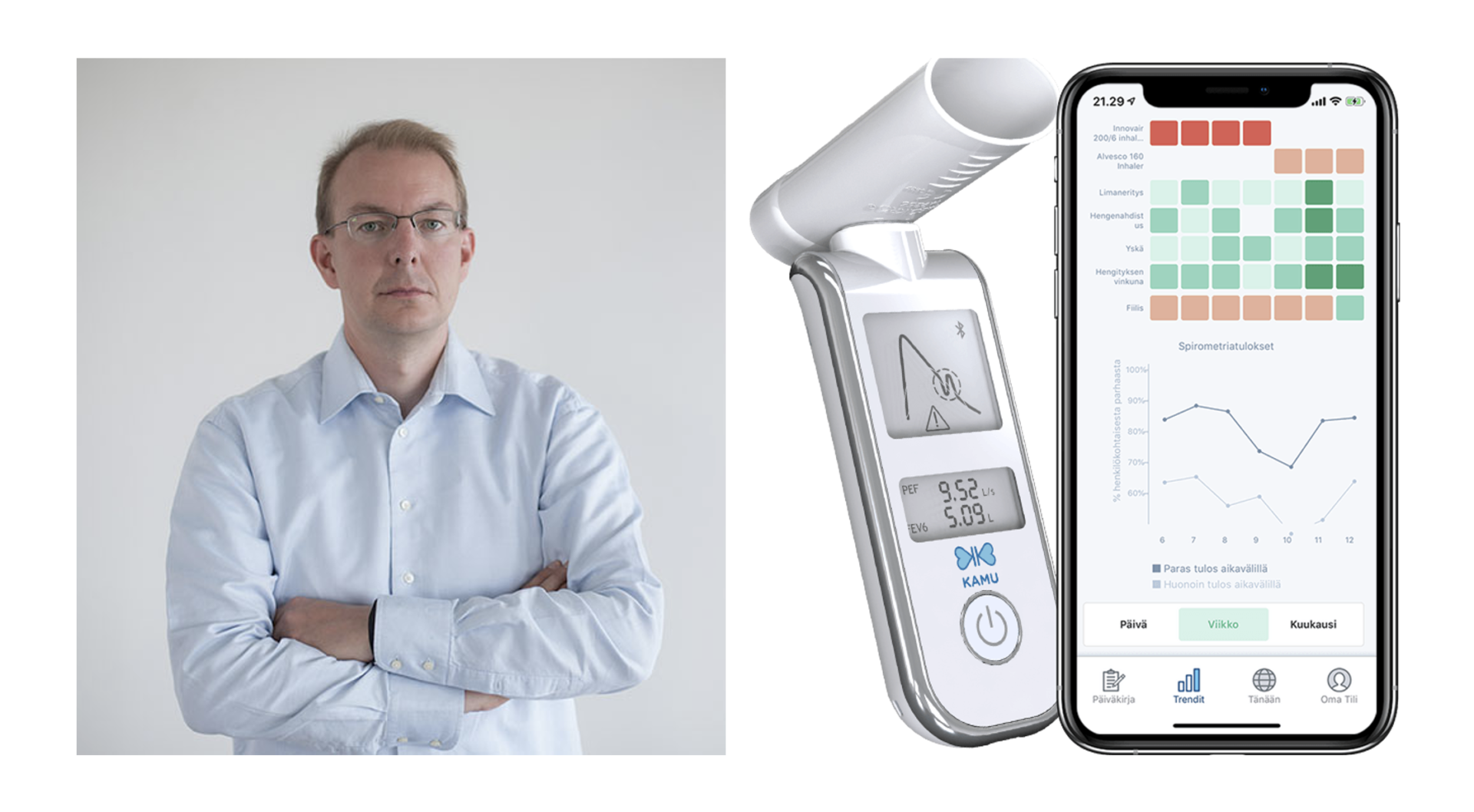 KAMU Health – Digital control and therapeutics for respiratory care.
Posted on juni 15, 2022
With good care, most asthmatics can lead a secure and balanced life. The secret lies in consistent guided self-care: monitoring the lungs regularly and taking your treatment medication as agreed with your doctor. It takes effort but doesn't have to be difficult.
KAMU is designed to make asthma management as easy and effortless as possible – to help maximize the number of symptom-free days.
Combining years of medical, technology and business expertise and experience, KAMU's team has put together a high-quality, CE-marked service that helps the asthma patients monitor their lung condition and collaborate better with their healthcare professionals.
With a connected, hospital-grade spirometer the patient tests their lung function at home. With a single exhale, they get FEV1, FEV1/FEV6, FVC and PEF values. The spirometry results are saved in KAMU Spiro's memory until uploaded to the KAMU Asthma app, where the patient can view them any time and track the symptoms, triggers and use of medication with a quick questionnaire. By keeping an eye on the trends, the patient can even learn to predict changes and act, for example adjust the medication dosage, before symptoms occur.
– In fact, we've taken this a step further and provide a relevant, local weather and air quality forecast, so that the patient can prepare for the day or maybe try to avoid areas with the most triggering conditions, and follow their personal exposure to pollutants in the air, says KAMU Health CPO Seppo Salorinne.
Once in contact with the healthcare, the asthmatic can easily download reports from the KAMU app and share them with their doctor or nurse.
Chronic respiratory conditions such as asthma and COPD are becoming increasingly more common and costly for employers and the healthcare systems. Asthma alone causes the loss of over 5 billion disability-adjusted life years (DALY) in the EU every year, according to WHO.
Founded in 2017, KAMU was built on the thought that patients living with asthma, COPD and other respiratory conditions deserve an equal opportunity for digital therapeutics and remote care as patients with other chronic conditions. KAMU Cloud offers a ready-to-use user interface for professionals and deployment can start in minutes. Advanced API is available for large scale rollouts, including built-in access control authentication methods enabling single sign-on for healthcare users utilizing existing credentials. Integration is also possible through the FHIR Smart API for EHR systems. Fully HIPAA and GDPR compliant, CE-marked Medical Device as per European Medical Devices directive. No integration is mandatory as users can also share data in PDF format with their care personnel. Research on respiratory illness and treatment adherence could be valuable for approval of new medicines.
KAMU Health at HIMSS
KAMU Health is a member of the HealthTech Nordic network and is selected to present at their pavilion 410 at the HIMSS conference in Helsinki 14-16 June. You can also meet them 15 June 1.30-2.30 pm in conference room 207.
Contact: Seppo Salorinne CPO, seppo@kamuhealth.com